Assisi Samplers
Please click on the design title on the left to view the designs and get more information or use the links.
Assisi Technique
Assisi Embroidery is a special form of cross stitch combined with double running stitch. The motifs are outlined in double running stitch with a darker colour and the background is filled with cross stitch, leaving the motif unstitched or void. In old Assisi type embroidery the motifs were generally symmetrically-positioned pairs of animals, mainly birds. The main motif is often surrrounded by filigree scrollwork in double running stitch.

Both the stitching technique and the designs are based on old Italian traditions rooted in the Middle Ages or even earlier. This technique was revived around the beginning of the twentieth century in the region of Assisi, Italy. The term "Assisi" embroidery for this technique dates from that period.
Here is an example: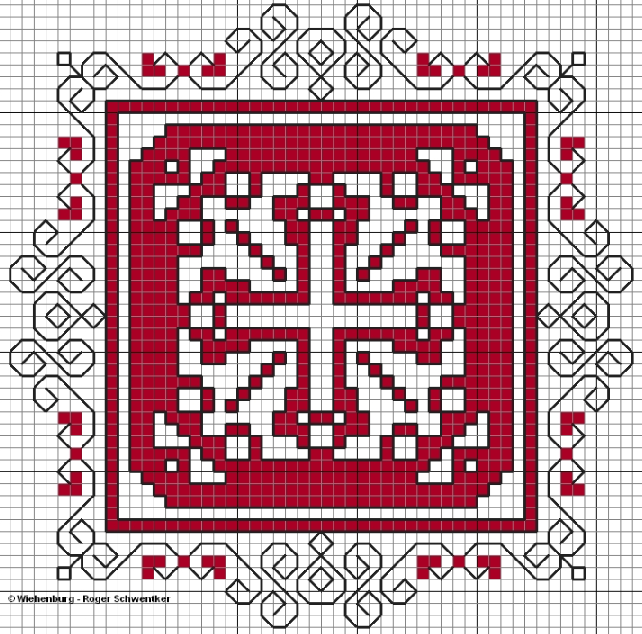 History
Assisi is a town situated in the province of Umbria in the central part of Italy. Assisi became famous because Saint Francis of Assisi was born there in 1182 and died there in 1226. St. Clare, the patron saint of stitchers(1192-1253) was also a native of Assisi.

In the Middles Ages, during the thirteenth and fourteenth centuries, embroidery was widely practiced and taught in monasteries. In the sixteenth century embroidery experienced a period of increasing popularity among the Italian populaion. The designs were stitched on fine linen fabrics. the motifs were left unstitched, whereas the outlines and the background were embroidered in coloured silk.

First the outlines were painted on the linen fabrics and then the design outlines were stitched in running or backstitch. For clerical embroidery black or brown silk was used. The entire background was stitched with red, green or yellow filling stitches.

Secular embroidery motifs based on satyrs, demons and ancient mythical beasts were popular; whereas religious embroidery motifs were influenced by traditional designs like pairs of birds or animals that were surrounded by scrollwork. Similar designs can be found in the stone carvings of many Umbrian churches for example.
During the fifteenth century Perugia, a town about 20 miles from Assisi, was a centre for cotton manufacturing. Tablecloths and other textiles were produced there, These textiles were woven with blue stripes that were decorated with pairs of birds and animal motifs. The motifs were left white against the blue background.

During the eighteenth and nineteenth centuries these weaving and embroidery techniques almost disappeared. At the end of the nineteenth century and the beginning of the twentieth century Assisi embroidery was revived in an attempt to provide income for the women of what was then a very poor agricultural region.

Embroidery Technique

There are three elements to Assisi embroidery:
the outlines and detail of the designs,

the cross stitch background,

the filigree scrollwork which forms the border decoration above and below the motif.